about the artist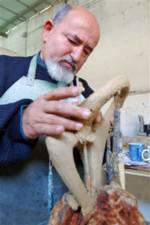 Name:
Akiva Huber.
Address:
LASKOV 3, Haifa 34950, Israel.
E-mail:
a_huber@inter.net.il
Cell.
972-523553028
Place of birth:
France, Lyon..
Year of birth:
1947.
Year of immigration to Israel:
1949
Status:
married + 3 children.
Education:
1966-1968: 'Shiba' College of radiography
Art Education:

Ceramic Sculpture, Kiryat Bialik Community Center (88-90).
Sculpture Academy, Emeq Izrael , Goren Center (90-92)
Member of:
the Israeli painters & sculptors association.
Studio Location:
Haifa Bay Area
Representing Galleries in USA:
L'atitude gallery –Boston- MA
. Xanadu Gallery –Scottsdale AZ
Houshang Galleries-Santa Fe-NM
Scheduled exhibitions in 2013
October 2013- Art from the Heart-Solo exhibition-Moscone Convention Center -San Francisco CA U.S.A.
November-2013 –Houshang Galleries Santa Fe NM